Before we get too far ahead of ourselves, I think some of you might be interested in learning a little bit about who we are. Since 2008 we have been living full time on the road as a traveling family. It started when our oldest was just a year old. Like many new parents in America, we were both working full time jobs and sending our baby to daycare for someone else to take care of her. It didn't feel good that we were paying someone to watch our kid discovering her first moments in the world. We wanted to be there to experience them with her.
As some of you might understand, it is easier said than done to simply quit your job and stay home with your baby. Like other dual-income families in America, both of us worked because we needed the income to sustain our lifestyle. We learned to scale back our lives to reduce our expenses to allow at least one of us to stay home. We made many difficult personal and professional choices that eventually would give us the freedom we desired. Each time we were confronted with a decision, we chose the one that brought us closer to our goal of being together as a family even if it meant turning down a job promotion or getting that bigger house.
As a web developer and designer, I was fortunate to have to right skill set to work remotely as a freelancer. With a handful of clients in hand, we set off in the fall of 2008 into the unknown. Back in those days, finding useful information about life on the road was not as easy as following a few travelers on Instagram or joining a Facebook group. None of those social tools existed at the time. In fact, the original iPhone had only been around for about a year and mobile internet was only just becoming affordable and usable. But the struggles to get away from a static life was completely worth the effort. We felt intoxicated with the freedom to roam freely with our baby girl and thirsted for more and more with every mile we explored.
Since then we have traveled nearly a quarter of million miles all across North America and Europe. We started in converted cargo van towing a little T@B tear drop trailer before soon graduating to a 25-ft Airstream. For the first 7 years, we visited every state in the United States with the last one being a summer adventure to the last frontier of Alaska. It was there we realized the limitations of pulling a big trailer and began yet another process of downsizing to a more nimble home on wheels. Our family had grown from 3 to 5 at this point. Our baby girl was now 7 years old and had a little sister and a baby brother. Having lived their entire lives on the road, there was nothing strange to them about our mobile life. In the fall of 2015, we downsized to a Four Wheel Camper Pop-Up truck camper on a Ford F-250 platform and headed south to spend 6 months in Mexico to continue our adventures in North America.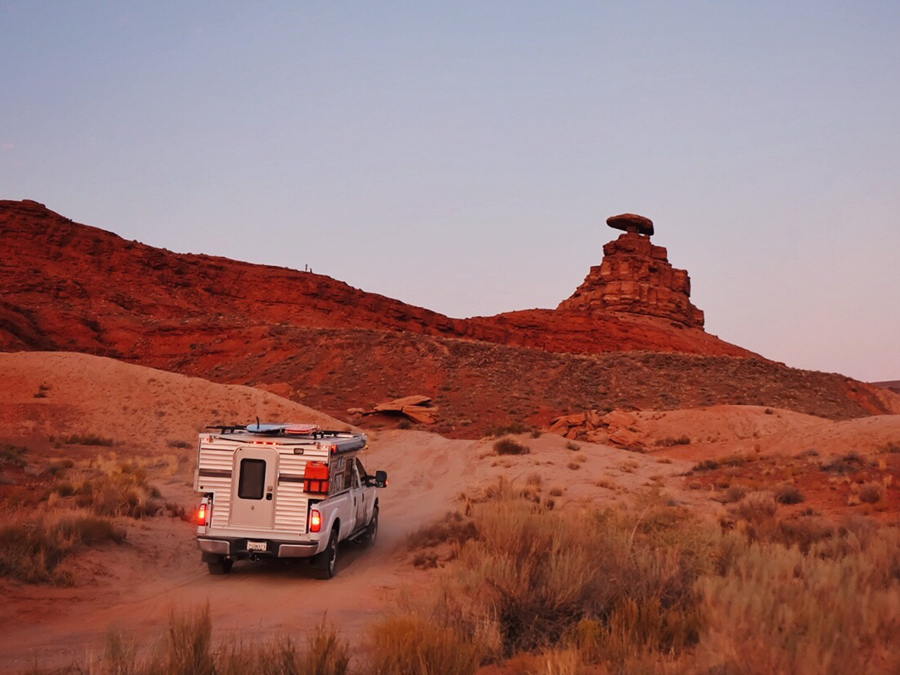 By the fall of 2016, we have visited practically every spot in the United States, Canada and Mexico. Having traversed our continent 4 times in 8 years with the last trip venturing out to the Atlantic coast of Canada visiting the Maritimes, Newfoundland and Labrador, we set our sights on a bigger adventure. One that will have us switching our traveling home once again and putting it on a boat for a journey across the Atlantic. The logistics of planning such a drastic change was daunting and we took our time to make sure we made the right choices every step of the way. We sold our truck and truck camper and bought a 4×4 Sprinter cargo van. We spent only a month for a simple but sturdy van camper build. In August of 2018, we made our fifth cross country drive from California to Maryland to ship our van from Baltimore to Belgium to begin our travels across Europe.
As of October 2019, we have spent 13 months and visited 25 countries in Europe. We have no plans of slowing down and have our sights set on more adventures in the future. Our kids are now 12, 10 and 7 but somehow we all fit comfortably as we travel in our Sprinter van. Having over a decade of experience mobile living, remote working, exploring and homeschooling our children, we are ready to share with you all the tips and tricks of how to make it comfortable, fun and sustainable. I will be the first to say that this lifestyle certainly is not for everyone. But if this is something you have been dreaming of doing, don't hesitate and start making the changes today to make that dream a reality.
We will be sharing everything we know with you right here on this website. To make sure you don't miss anything, subscribe to our newsletter below: